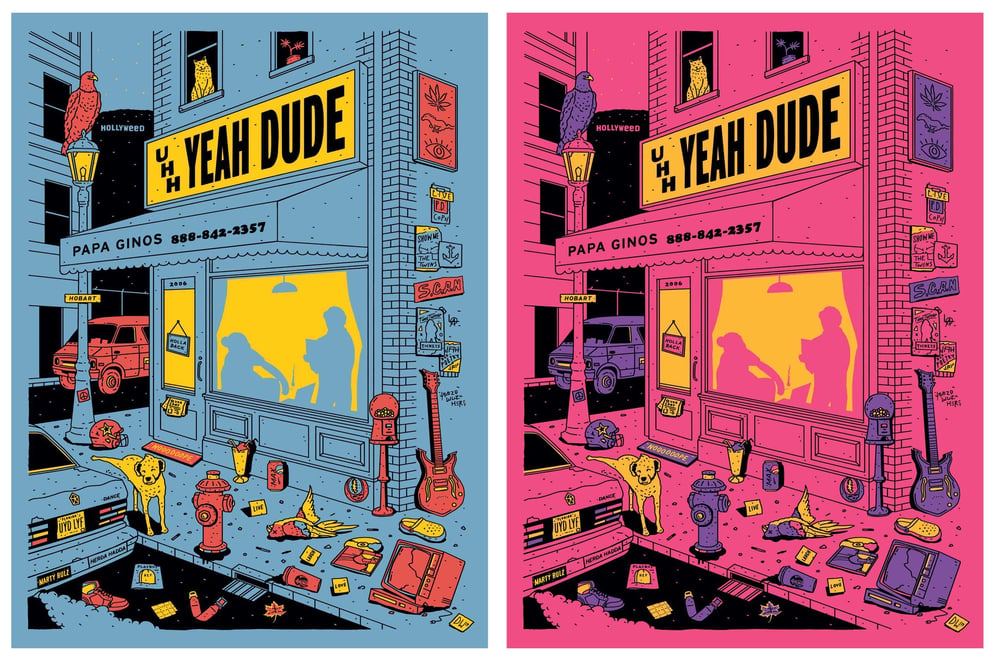 HANDPRINTED, NUMBERED AND SIGNED BY SETH, JONATHAN AND THE ARTIST. SUPER LIMITED STOCK AVAILABLE ONLINE. ADDITIONAL POSTERS WILL BE AVAILABLE AT THE LA LODGE ROOM LIVE SHOW.
ARTIST DEVIN WATSON @EYEBALLFORTESS
ONE POSTER. PLEASE SELECT YOUR COLOR WAY, BLUE OR PINK.
YOU CAN BUY TICKETS TO THAT SHOW BELOW!
https://www.brownpapertickets.com/event/4531809
THESE ARE HANDPRINTED AND SIGNED (SO THEY TAKE LONGER TO MAKE) PLEASE ALLOW 5-6 WEEKS FOR DELIVERY. PLEASE NOTE, WE OFTEN SHIP POSTERS ALONE, IF YOU PURCHASE AN ADDITIONAL ITEM WITH YOUR POSTER, IT MAY BE SHIPPED SEPERATELY. THANKS!
As of January 2020, USPS has raised their shipping costs. We continue to provide the lowest shipping cost available. Thank you for your understanding.
If you have any questions, email us:
UHHYEAHMERCH@GMAIL.COM
The merch email is checked weekly so please be patient :)