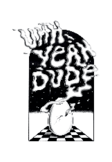 6 STICKERS PER ORDER 🌀
RECTANGLE
2"
PLEASE ALLOW 3 WEEKS FOR DELIVERY!
THE MERCH EMAIL IS CHECKED WEEKLY SO PLEASE BE PATIENT. WE ARE UNABLE TO ALTER THE DELIVERY ADDRESS SO PLEASE MAKE SURE YOUR ADDRESS IS CORRECT BEFORE PURCHASING!! 💕
PLEASE NOTE IF YOU ARE PURCHASING PRE-ORDER ITEMS IN THE SAME ORDER, WE DO NOT GUARANTEE DELIVERY TIME. YOUR LABEL MAYBE BE PRINTED WELL IN ADVANCE OF SHIPMENT IN ORDER TO KEEP LABELS AND STOCK SEQUENTIAL.
THANKS!